BOURBON MIXOLOGY
• Libation Inspiration •
BOURBON
On The Rocks
ice cubes or whisky ball
two fingers of Left Bank bourbon
MINT JULEP
Classic Kentucky Derby Cocktail
simple syrup • mint leaves • bourbon
OLD FASHIONED
The King of Cocktails
bourbon • orange peel
angostura bitters • sugar
SOUTHERN MANHATTAN
More than a State of Mind
bourbon • sweet vermouth • orange bitters • angostura bitters • cherry
BOURBON MILK PUNCH
Boozy, Creamy Merriment!
bourbon • simple syrup
whole milk • vanilla extract
cinnamon sticks • grated nutmeg
THE BOURBON NEGRONI
A Twist on the Italian Favorite
bourbon • sweet vermouth • Campari
orange bitters • orange peel
THE BELMONT JEWEL
Official Drink of the Belmont Stakes
bourbon • lemonade
pomegranate juice • fruit & cherries
BOURBON EGGNOG
The Holiday Cocktail Tradition
bourbon • Grand Marnier
heavy cream • cinnamon • eggs
KENTUCKY MULE
Southern Twist to the Moscow Mule
ginger beer • bourbon • mint • lime juice
BOULEVARDIER
The "Man-About-Town"
bourbon • sweet vermouth
orange peel • Campari • cherry
JOHN COLLINS
The Tom Collins Cocktail Sibling
soda • bourbon • lemon juice • sugar
cherry • orange slice
HOT TODDY
Recipe for a Remedy
bourbon • honey • lemon juice
hot water • herbs & spices
BOURBON MEATBALLS
Whisk together whiskey, chili sauce, apricot preserves, BBQ sauce, worcestershire, apple cider vinegar, chili powder, garlic powder and a large pinch of salt and pepper in a medium slow cooker....
BOURBON BBQ SMOKIES
Slow Cooker BBQ Little Smokies are an easy to prepare crowd pleasing appetizer! These fun little bites simmer away in smokey sweet and tangy BBQ sauce. Spiked with a little bit of bourbon for extra flavor (optional)!
BOURBON APPLE BUTTER
This easy Bourbon Apple Butter has a delicious kick of flavor! You're going to want to spoon this over everything!
​
NEW ORLEANS STYLE
PECAN BREAD PUDDING WITH BOURBON SAUCE
Bring a taste of the Old South to your table with this decadent dessert.
BOURBON MUSTARD ORANGE GLAZED HAM
Sticky, sweet, tangy, and full of flavor… this bourbon, mustard, and orange glazed ham is amazingly flavorful, beautifully marbled, and has a sticky glaze that is out of this world!
BOURBON SHALLOT BUTTER
Seared steaks coated with melted Bourbon Shallot Butter will make your dinner a special delight!
BBQ CHIPOTLE BOURBON BUTTER OYSTERS
A recipe invented, tweaked ....and perfected by Hog Island Oysters. Friends line up for these smokey, sweet, slightly spicy and insanely delicious 'sters.
BOURBON BUTTER PANCAKES
These pancakes are a flavorful update to the classic dull pancake recipe. Use brown sugar instead of white sugar for a pancake that has notes of caramel.
HONEY BOURBON GLAZED SCALLOPS
Scallops are called the 'candy of the sea' and these scallops are salty, meaty, savory, and sweet from the honey bourbon glaze.
BOURBON CHICKEN
Easy Bourbon Chicken that's crispy, sweet, sticky and tastes just like the kind you grew up eating at the Mall!
MAPLE BOURBON GRILLED PEACH SALAD
This grilled peach salad is dressed with a maple bourbon vinaigrette and loaded with savories like bacon and crunchy honey almonds.
BOURBON BROWN SUGAR SALMON
This Brown Sugar Salmon recipe is so simple yet so delicious! Start with a salmon marinade with brown sugar, soy sauce, and bourbon to add lots of flavor.
BOURBON WALNUT BROWNIES
Rich, gooey brownies made with bourbon and chopped walnuts for rich, nutty flavor.
CHOCOLATE BOURBON PECAN PIE
The extra gooey filling in this bourbon pecan pie is loaded with chocolate and a hint of bourbon which adds an extra depth of flavor atop a classic homemade pie crust.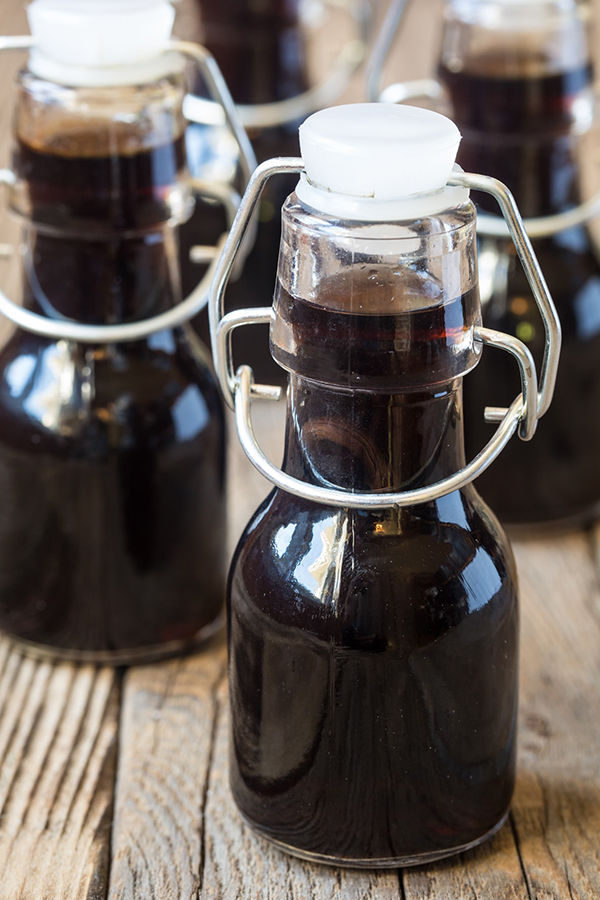 HOMEMADE BOURBON VANILLA EXTRACT
A fun made from scratch holiday gift idea for your friends and family. Bourbon makes everything better!
BOURBON GLAZED SALMON SALAD
This bourbon glazed salmon is what you call a gourmet salad! A piquant bourbon glaze helps make a tender, flavorful salmon that tops a crisp, fresh salad.
BOURBON BALLS
This sweet candy rolled in powdered sugar has pecans and a hint of cocoa. They are no bake which makes it an easy recipe for the holidays and gift giving.
BOURBON WHISKY
BBQ SAUCE
Bourbon gives this barbecue sauce a depth of flavor that compliments pork and other smoked meats.
KENTUCKY BOURBON CAKE
This Kentucky bourbon cake is an authentic Southern recipe classic, similar to a pound cake with its tender, perfect crumb but with a golden bourbon glaze.​
HOMEMADE BOURBON SOAKED CHERRIES
These homemade Bourbon Cherries are a delicious and easy-to-make treat. You can use them for garnish on a cocktail or serve them on a dessert bar.
BOURBON PRALINES
These bourbon pecan pralines are are perfectly caramely- and crunchy with enough bourbon to not be disguised and perfectly sweet for a holiday treat.
CAJUN CAFE BOURBON CHICKEN BITES
Spicy and sweet, Copycat Cajun Cafe Bourbon Chicken Bites are tender chunks of chicken cooked in a bourbon and brown sugar sauce. They will melt in your mouth.
HONEY BOURBON
STEAK TIPS
Honey Bourbon Steak Bites are seared in a cast iron pan until charred on the outside but still juicy on the inside. They are both sweet and salty with the wonderful flavor of bourbon.
BOURBON SPIKED
CHAI TEA
Spiked Chai is the perfect warm winter drink. This chai tea recipe is simple, delicious, full of flavor, and spiked with bourbon!
• DISTILLED IN KENTUCKY​ •
• BOTTLED IN LOUISIANA​ •

• DISTILLED IN KENTUCKY​ •
• BOTTLED IN LOUISIANA​ •